Would you like to co-host Look What I Got? Send me an email! pennilesssocialite@gmail.com
Now that's it's finally spring, let's just rush ahead and start thinking about summer! (I'm being a bit sarcastic of course,but you do have to be fashionably prepared). There are a few essentials that I am thinking about acquiring (or replacing) for the upcoming season...and a few essentials that I never really thought of before taking a long hard look at my wardrobe.
Bathing Suit
(pictured
here
). This is a pretty obvious one. But, you should get a bathing suit that's good quality so that the butt doesn't pill after one sitting on a lounge chair. And, you should make sure it makes you feel fabulous. Vix bikinis (
options
) are a good option because they come in about a billion colors. If a bikini isn't your style, I love the
vintage maillot style
, which is flattering on pretty much everyone.
High Waisted Denim Skirt
(
other options
; pictured
here
). Hear me out on this one. I know this does not sound like a summer essential. But think about the possibilities! They're cotton, comfy, and stretchy. They don't wrinkle no matter how much you sweat. AND you can wear them with sneakers or sandals for a casual look or dress them up with pumps for the evening!
Sandals
(pictured
here
) I'm not talking about flimsy flip flops. I'm talking about sturdy walking around sandals that won't turn your feet into giant blisters. Wishing I could afford a pair of Pedro Garcia Flat Sandals (
options
).
Big ol' Bag
(pictured
here
) Listen, the summer requires a lot of accessories, so you need a large accessory to carry those accessories. Make sure to get one with comfy thick straps in order to hold up against the weight of your gallon jug of sunblock. Wait, am I the only one that needs that?
Sundress
(pictured
here
) You're going to need a sundress that travels well. You need something that you can throw in a bag and wear to Sunday brunch after you had to crash on your friend's couch after an epic BBQ. Also, you probably want it to be comfortable and not wrinkle upon contact with your sweaty thighs. I like dresses in a scuba fabric (
option
) and I don't think jersey wrinkles all that easily (
options
).
Sunglasses
(pictured
here
). Duh!
And now you can enter to win a $50 gift card from Shop Bop to get some summer essentials!
a Rafflecopter giveaway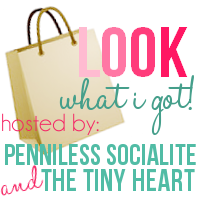 1. follow your hosts
2. grab a button
Or link back to one of your hosts, and help us promote Look What I Got!

3. link up!
Link up your post on what you got (for cheap)!
(Please don't link up your entire blog or any posts that are not "Look What I Got"! )

We love having you link up and we will be reading all your posts! So, if you don't follow the rules and link back you'll be put in time out (i.e. we'll delete your link).
Linking up with
Sunday Funday, Manic Monday, Mix it Monday
,
Let It Shine, Monday Mingle,
Trend Spin Link Up
, Syle Sessions,
The Pleated Poppy, Style Me Wed..
Transatlantic Blonde
, Pampers and Pearls, Pumps & Push Ups, Whims Wednesday
,
Because Shanna Said So
,
I Feel Pretty
,
Be.You.,tiful Link Party, Mix and Match Fashion
, Thursday Fashion Files, Friday's Fab Favorites, Passion for Fashion