I go through a lot of beauty products. My face is fairly heavily spackled everyday. But sometimes many times I just buy beauty products and play around with them, never getting to the bottom of the package. However, there are those select products that I use and use and use....and then scrape the last little bit out of the bottom. The it comes time to re-buy...or try something new.
1.
Dr. Jart Water Fuse Beauty Balm
($34): This is hands down the best BB cream I have ever used. I've talked about it several times on the blog (
here
and
here
). It's by far the best BB cream I am ever used for pale skin. It's moisturizing, yet provides full coverage. It's truly a BB cream and not just a moisturizer in sheep's clothing. And don't let the price tag scare you. You really don't need much of this. I use it everyday adn I get between 2 and 3 months out of one tube!
Rebuy! (In fact, I already have a shiny new tube).
2.
Mary Kay Nourishine Lip Gloss in Fancy Nancy
($15): I love love love the color of this gloss. It's the perfect amount of pink and shine. And it's super hydrating for your lips. My only complaint is that it's not that long-lasting. Therefore, I am going to
try something new
.
3.
Nars Blush in Orgasm
($39): I don't
know if I can say anything about this blush that hasn't already been said by every other blogger in the universe. This blush is an instant wake up for your face. And it looks good on just about every skin tone. It's pinkish-peach with an almost reflective shine. So, it really changes color depending on your skin tone. Obviously (because I am a band wagoner), I chose to
rebuy
this).
4.
Julep Blank Canvas Mattifying Eye Primer
($22): My greasy eyelids need primer if my eyeshadow is going to stay in place for more than an hour. So, I always have to keep a healthy stock of it. I loved that this wasn't too wet or too dry. I don't like to wait 10 minutes for my primer to dry nor do I like to have to apply it with a putty knife. This was like a weird dry liquid. However, the one downside is that it only comes in one shade. The shade was right for me (i.e. super pale), but might not be for many ladies. Additionally, I wasn't a fan of the applicator. It felt like a cheap eye shadow sponge. I used my own brush for application. So, in the end, I chose to
try something new
.
5. Mary Kay Cream Blush in Sheer Bliss (no longer available). I love cream blush. I prefer it to powder most of the time. This one went on really smooth, was long-lasting, and provided just the right amount of pigment. And now I can't find it anymore.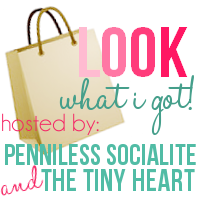 1. follow your hosts
2. grab a button
Or link back to one of your hosts, and help us promote Look What I Got!

3. link up!
Link up your post on what you got (for cheap)!
(Please don't link up your entire blog or any posts that are not "Look What I Got"! )

We love having you link up and we will be reading all your posts! So, if you don't follow the rules and link back you'll be put in time out (i.e. we'll delete your link).
4. mix and mingle
Visit some other blogs and let them know you found them through the link up!