I have missed several Shoesdays now. I am a bad blogger. So, today I bring you something I missed along the way: Anthro's Trinket Flats. How did I not notice these?!?! I am so late on this.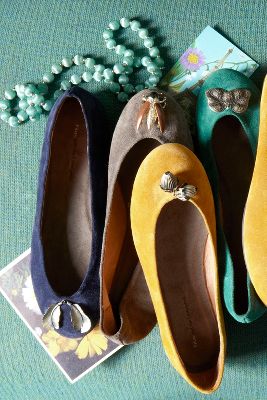 The only ones still available are the Acorn Trinket Flats. Good news is that they are on sale for $50! Bad news (for me) is that they are leather. (As many of you know, I am vegetarian and do not wear leather.)
DIY Designs provides a tutorial on how to make your own Trinket Flats using inexpensive shoes from Target
HERE
. In a nutshell, you can sew little trinkets from the craft store onto inexpensive flats. Based upon my button sewing skills, those baubles would fall right off my shoes. However, this idea of sewing your own accessories to your shoes really opens up the doors for creativity. I am sure there is an Etsy seller that has jumped right on top of this.
I've been scouring the internet for non-leather look-a-likes, but I have yet to find them. I will keep you updated on my quest.