Ignore the Bellagio and fake Eiffel Tower behind me for a moment while I tell you about my new favorite San Francisco clothing boutique. (Yes, I am such a jet setter I get to have a fav boutique in each city I visit). It's called Ambiance and I wanted to buy every single thing in the store. Ambiance carries a lot of brands seen on sites like Modcloth and Ruche and offers a HUGE selection of clothing, shoes and accessories. I would say the aesthetic is like a less whimsical Anthropologie. (Does that description make sense?) Anyways, I found this aztec-y print tank on the clearance rack for $20!
Obviously, these pictures were taken in Las Vegas, but that has nothing to do with my fab new top. The only reason I took a picture in front of the fake Eiffel Tower is because the Scot said, "Stand here, I want a picture of you with the most ridiculous thing I've ever seen."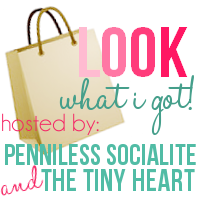 1. follow your hosts
2. grab a button
Or link back to one of your hosts, and help us promote LookWhat I Got!

3. link up!
Link up your post on what you got (for cheap)!
(Please don't link up your entire blog or any posts that arenot "Look What I Got"! )

We love having you link up and we will be reading all your posts! So, if you don't follow the rules and link back you'll be put in time out (i.e. we'll delete your link).

4. mix and mingle
Visit some other blogs and let them know you found them through the link up!