I don't think it's a big secret that I love shopping at Kohl's. I patiently await getting that coveted 30% off coupon in mail. If you don't know, if you have a Kohl's credit card you get a peel off or scratch off coupon with mystery savings of between 10% and 30%. I don't shop there for any less than 30% off....I wait it out. You can shop all of the latest trends at Kohl's for a fraction of what you'd spend at other stores. You can get some sequins, a tassel necklace, a puffer vest, faux fur, faux leather....real plaid, real fringe. Have I missed any big trends?
AND you can save even more shopping at Kohl's (and other retailers) with Play2Shop, which earns you up to 10% cash back on your purchases! You can also earn points to be used towards even more stuff or gift cards in the rewards showroom. You can choose from a whole bunch of stores like Nordstrom, Ann Taylor, Banana Republic, Sephora, Forever 21, Gap, Macy's, J. Crew, and Old Navy.
So, go try out Play2Shop and enter to win $50 PayPal Cash! (open internationally!)
a Rafflecopter giveaway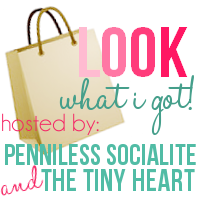 1. follow your hosts
2. grab a button
Or link back to one of your hosts, and help us promote LookWhat I Got!

3. link up!
Link up your post on what you got (for cheap)!
(Please don't link up your entire blog or any posts that are not "Look What I Got"! )

We love having you link up and we will be reading all your posts! So, if you don't follow the rules and link back you'll be put in time out (i.e. we'll delete your link).

4. mix and mingle
Visit some other blogs and let them know you found them through the link up!
Linking up here:

Be.You.,tiful Link Party, Mix and Match Fashion, All Things Thursday, Lovely Blog Hop

,

Style Elixir

,

Friday's Five

,

Passion for Fashion

,

Simply Just Lovely, Glitz and Gold, Vodka Infused Lemonade, That Friday Blog Hop, Fashion Informant Link Up, and Perfectly Coutured