If you're like me, you probably have a pile of unwanted, unused beauty samples (and even full sized products). My name is Tara and I am a beauty product hoarder. I'll get samples shopping at Sephora, in my monthly beauty boxes and just randomly in the mail. Sometimes I just don't like the product, other times I just don't have enough hours in the day to try every new beauty product. As the Scot and I were getting ready to move, I figured I should purge my beauty product wagon. (It's not a wagon, but it is three huge drawers on wheels.). I felt guilty throwing away all of this great stuff that I was just never going to use. Then
eDivv
appeared on the horizon to change my wasteful ways....
eDivv

.com
is the very 1
st
online marketplace where you can swap beauty subscription box samples and other beauty products! If you have unwanted or duplicate products from your Birchbox, Ipsy, Julep or other monthly beauty services (or even from Sephora). (I cheated and uploaded a few full size products that were still in the packages that I just never used). Trade it! You get 4 to 6 products in each box each month. There is just no way you love them all. Trading products can be like getting another monthly beauty box subscription. It can be just as
fun
and
easy
as receiving the boxes. And best of all...this entire service is free! You just pay to ship your products to your swap partner.
Ok, now for the details. First step is to upload photos and descriptions of the products you want to trade to your "shop." It's super easy (just like uploading stuff to Poshmark or Storeenvy) Once your shop is stocked, you can start trading. Trading, or as
eDivv

.com
likes to call it, "divvying," starts with a "Divvy" Request. You find a product you like and send a divvy request to the user and note which items in your shop you'd like to trade for. Users can specifiy in their profiles what kind of items they are looking for. Users can accept, decline, or counter their trading partner's offer through checking or un-checking products listed under their trading partner's account. Once you've successfully traded, you get your partner's address and ship off your items! Here's a little break down of the process.
In just a two weeks, look at all I've divvied! I send away products that weren't my color or style, or that I just didn't use and got a butt ton of stuff that I love! I love having a stock of travel shampoo, moisturizer and face wash for weekends away or short trips.
Join eDivv today and you can start trading with me! My shop is found
here
, and I've been uploading stuff at least once a week because we're moving and I am trying to purge as much as I can! So, will you be joining?
And now it's on to the link up!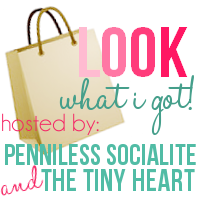 1. follow your hosts
2. grab a button
Or link back to one of your hosts, and help us promote LookWhat I Got!

3. link up!
Link up your post on what you got (for cheap)!
(Please don't link up your entire blog or any posts that are not "Look What I Got"! )

We love having you link up and we will be reading all your posts! So, if you don't follow the rules and link back you'll be put in time out (i.e. we'll delete your link).

4. mix and mingle
Visit some other blogs and let them know you found them through the link up!