I feel like I may have gone a little wild this month with the purchases. Since I also purchased an entire house in February, I think strict austerity measures will be imposed in March. I hope the Scot likes Ramen. At least he'll get to look at something sparkly and pretty across the dinner table.
1.

Full Midi Skirt: Asos

($64)
2. Prowess Purse: Just Fab ($15, marked down from $40)
3. Urban Decay Naked Gloss: Sephora ($20)
4. Urban Decay Naked Loose Powder: Sephora ($34)
5. Betsy Johnson Bow Satchel ($54 after 20% off coupon)
6. Starlet Necklace: Banana Republic ($18 marked down from $70)
7. Crystal Shimmer Earrings: J. Crew ($15 marked down from $58)
8. Lace Bow Sheath: Banana Republic ($24 marked down from $165)
9. Tweed Shirttail Mini: J. Crew ($30 marked down from $118)
10. Warbler Post Peasant Blouse: Anthropologie via @Shoponthebrink ($30, sold for $128)
11. Hunter Romilly Flats: via @shopkris (Paid $50, seen them for $100 and sold out everywhere)
12. Saige Pumps: Just Fab ($40 marked down from $50)
13. 2 Floral Vintage Dresses via @vintagewhimsy ($80 marked down from $100) I'll premiere these when it gets warmer and introduce you to this awesome shop! ~ not pictured
14. Sequin Skirt: Target ($20 after $4 off coupon) ~ not pictured
Total Original Price: $1,039
Total Percentage Saved: 53%
Clothes Sold on Poshmark and Instagram: $268
50% sale items at Banana Republic
50% off sale items at J. Crew
Buy One Item Get One for $14.99 on Just Fab
20% off coupon from Macy's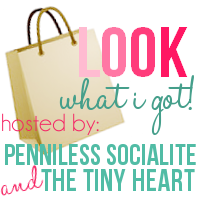 1. follow your hosts
2. grab a button
Or link back to one of your hosts, and help us promote LookWhat I Got!

3. link up!
Link up your post on what you got (for cheap)!
(Please don't link up your entire blog or any posts that are not "Look What I Got"! )

We love having you link up and we will be reading all your posts! So, if you don't follow the rules and link back you'll be put in time out (i.e. we'll delete your link).

4. mix and mingle
Visit some other blogs and let them know you found them through the link up!