My "November" purchases post is a little bit of a lie because I did not include my Black Friday and Cyber Monday purchases. I'll throw those in the December purchases. I mean technically I do not own those items yet. Visa will really be the owner of my recent purchases until about mid-December when the bill is due. But, here's what I actually own at this point.
1. Anthropologie Checked Poplin Peplum Top (exact) (Orig. $88, Paid $34)
2. Loren Hope Carly Bracelet via Rocks Box (exact) (Orig. $78, Paid $62)
3. J. Crew Now-Embellished Top (exact) (Orig. $60, Paid $42)
Total Original Price: $1,296
Total Percentage Saved: 767%
Clothes Sold on Instagram and Poshmark: $122
Net Spent: $304
Sales Shopped
20% off items from Rocks Box
20% off Anthropologie Sale Items
30% off everything at J. Crew
40% off Bloomingdale's Sale Items
50% off at Banana Republic Factory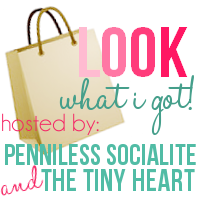 1. follow your hosts
2. grab a button
Or link back to one of your hosts, and help us promote Look What I Got!

3. link up!
Link up your post on what you got (for cheap)!
(Please don't link up your entire blog or any posts that are not "Look What I Got"! )

We love having you link up and we will be reading all your posts! So, if you don't follow the rules and link back you'll be put in time out (i.e. we'll delete your link).
4. mix and mingle
Visit some other blogs and let them know you found them through the link up!