Loren Hope Palmer Necklace in Seafoam
: $118 (
purchase
). I love this necklace, but the color was just not right for the winter months. Since I've been wearing mostly darker colors lately, this just did not fit into the rotation that much. I may re-request it during the warmer months!
House of Harlow Eternal Link Cuff
: $68 (
purchase
,
worn
). What a great stacking piece! I wore the crap out of this one. I probably would have kept it if a stone had not fallen out...sad times.
Kendra Scott Tessa Stud Earrings
: $65 (
purchase
). I loved these earrings for everyday wear. They had just the right amount of sparkle and color.
Get a FREE MONTH OF ROCKS BOX SERVICE you sign up

here and use code "TARABFF"

$20 per month and you get 3 pieces of designer jewelry ($15 if you pre-pay for a year, $17 if you pre-pay for 6 months).

20% off retail price of any pieces you want to keep (all prices above reflect this discount)

Cancel any time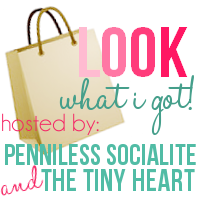 1. follow your hosts
2. grab a button
Or link back to one of your hosts, and help us promote Look What I Got!

3. link up!
Link up your post on what you got (for cheap)!
(Please don't link up your entire blog or any posts that are not "Look What I Got"! )

We love having you link up and we will be reading all your posts! So, if you don't follow the rules and link back you'll be put in time out (i.e. we'll delete your link).
4. mix and mingle
Visit some other blogs and let them know you found them through the link up!