Bracelets: Michael Kors, Guess & Favery |
I've been calling this $35 skirt from the Anthropologie clearance rack "polka dot denim." However, now that I look at these pictures, it's not polka dot. The "dots" have holes in the middle. Is it more appropriate to call it hollow polka dot? Cheerio print? Doughnut print? Well, I like doughnuts more than Cherrios...so this is my doughnut print skirt from the clearance rack.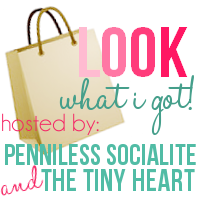 1. follow your hosts
2. grab a button
Or link back to one of your hosts, and help us promote LookWhat I Got!

3. link up!
Link up your post on what you got (for cheap)!
(Please don't link up your entire blog or any posts that arenot "Look What I Got"! )

We love having you link up and we will be reading all your posts! So, if you don't follow the rules and link back you'll be put in time out (i.e. we'll delete your link).

4. mix and mingle
Visit some other blogs and let them know you found them through the link up!
Linking up here:
Mix and Match Fashion, All Things Thursday,
Lovely Blog Hop
,
Style Elixir
,
Friday's Five
,
Passion for Fashion
,
Simply Just Lovely
and
Perfectly Coutured