Ponte Fit and Flare Dress: Banana Republic (
exact
) | Dollhouse Hoots Flats: DSW (
exact
) |
Fur Snood: Nordstrom, giveaway win from
Bon Bon Rose Girls
(
similar
) |
Bracelet: David Aubrey via
Rocks Box
(
similar
) | Earrings: Gorjana via
Rocks Box
(
exact
)
The Scot has forbid me from purchasing any more owl home items. I have a lamp, salt and pepper shakers, pictures and numerous little sculptures around the house. He claims that people do not want to come to the "crazy owl house." However, he did not specify that I was not allowed to purchase owl clothing items. Enter these shoes. So now I am the crazy owl lady living in the crazy owl house.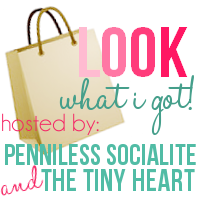 1. follow your hosts
2. grab a button
Or link back to one of your hosts, and help us promote LookWhat I Got!

3. link up!
Link up your post on what you got (for cheap)!
(Please don't link up your entire blog or any posts that are not "Look What I Got"! )

We love having you link up and we will be reading all your posts! So, if you don't follow the rules and link back you'll be put in time out (i.e. we'll delete your link).

4. mix and mingle
Visit some other blogs and let them know you found them through the link up!