Bar Necklace: Kate Spade Saturday via TJ Maxx (
similar
) | Bracelet: Banana Republic (
worn
,
exact
) | Watch: Michael Kors
If you know anything about my life, you know it's weird that I'm wearing an "Anniversary Ring." The Scot and I don't yet have an anniversary worthy of sparkly jewels (i.e. we're not married yet). You will also notice that my ring finger is missing a bit of antique sparkle (i.e.
my engagement ring
). Well, tragedy has befallen my pretty.
There was an unfortunate accident with a faulty showroom sofa bed and my engagement ring. (Ok, the sofa bed probably wasn't faulty. It could have been user error.) I was able to retrieve the tiniest little diamond from the depths of that monstrous apparatus. (Again, it probably is not a diamond-eating monster, but I have a little anger toward that sofa bed). However, the setting was jacked up. (Did I use that phrase properly? Are the kids still saying that?) I dropped the ring off at the jewelry doctor the very next morning and was sad to learn the repair would be extensive and time consuming because the ring is antique and because I did such a good job of breaking it.
After a whole day of longingly rubbing my ring finger. I received an email from Anjolee asking if I would like to review one of their Anniversary Rings. They saved my naked finger! Within a few days I had some new sparkle to sport. Not just any ring could take the place of my beloved engagement ring, but this topaz encrusted little beauty is doing a darn good job! The quality is fabulous, the fit is fantastic, and it adds just the right amount of sparkle.
Anjolee
is a online retailer that
literally
let's you customize any piece of jewelry you want! They have engagement and anniversary rings, bracelets, necklaces....all types of jewelry.
Although this little ring will never take the place of my engagement ring, I think I might sport it sometimes instead for more casual occasions....or when sofa beds are involved.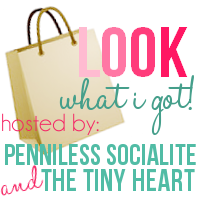 1. follow your hosts
2. grab a button
Or link back to one of your hosts, and help us promote LookWhat I Got!

3. link up!
Link up your post on what you got (for cheap)!
(Please don't link up your entire blog or any posts that are not "Look What I Got"! )

We love having you link up and we will be reading all your posts! So, if you don't follow the rules and link back you'll be put in time out (i.e. we'll delete your link).

4. mix and mingle
Visit some other blogs and let them know you found them through the link up!
Full Disclosure: I was provided the ring free of charge for review purposes. However, all opinions are 100% mine and I was not provided any other compensation for this post.
Linking up here:

Mix and Match Fashion, All Things Thursday, Lovely Blog Hop

,

Style Elixir

,

Friday's Five

,

Passion for Fashion

,

Simply Just Lovely, Vodka Infused Lemonade, That Friday Blog Hop, Fashion Informant Link Up, and Perfectly Coutured