It's been awhile since I've shared the contents of my monthly Rocks Box. For those of you unfamiliar with Rocks Box, it's a monthly subscription service that sends you three pieces of designer jewelry each month. It's sort of like Stitch Fix....except you can keep and wear the jewelry for up to two months! If you like any of the pieces, you can purchase them for 20% off retail. It's a great way to wear jewelry you normally would not spend the money on or discover new jewelry designers.
Sign up here and receive a $10 credit!
Circle Necklace: Lucas Jack ($66) - For some reason I did not wear this necklace....not even once. This really surprised me because I LOVE Lucas Jack pieces. I've actually kept three Lucas Jack pieces from previous Rocks Boxes (here, here & here). I just don't wear enough autumnal colors like orange and brown I guess.
Goddess Stud Earrings Ishyara ($33) - I wore these earrings once and I thought my ear lobes were going to fall off. They were just way too heavy!
Daphne Ring: Gorjana ($48) - I did actually wear this ring quite a bit. However, I felt it was just a little too blah to spend $48 on it.
3-Strand Turquoise Bracelet: David Aubrey ($88) (worn) - This bracelet just did not work for me. The large stone was too bulky and the bracelet awkwardly twisted and fell around my wrist. I think I made it about 15 minutes with this bracelet on. However, it was beautiful and wonderfully made. I was really happy to have a David Aubrey beauty grace my arm....even if only for a little while.
Sea Stripe Circle Studs: Gorjana ($24) (worn) - I really wanted to like these earrings....especially for the price. They were so perfect and neutral, without being boring. However, they drooped on my ear lobes.
To Infinity Ring: Urban Gem ($14) (worn) - I really really really wanted to like this ring. You never get anything this budget friendly in a Rocks Box. However, there was a reason this ring was budget friendly. The gold coating on the ring rubbed off on the bottom after just a few wears!
Five Station Necklace: House of Harlow ($66) (worn) - Although I love this necklace, I feel like I have seen on every blogger and their mother. And I've seen knock-offs on every blogger and their sister.
Buckley Ring: Gorjana ($48) (worn) - I loved this ring. I wore it almost everyday during the month I had this box. I would have kept it....if not for the next beauties.
Petra Earrings: Loren Hope ($54) (worn): Holy crap. Loren Hope is now my, hands down, favorite jewelry designer. (Sorry Lucas Jack and Kate Spade). I pretty much decided to keep these earrings within seconds of opening up this box.
After a disappointing November and December...I though about cancelling
Rocks Box
in 2014. However, the ladies over there really picked up their game for January (and have been hitting it out of the park ever since). I will never doubt you again
Rocks Box
.
Rocks Box Deets
Get a $10 credit when you sign up here.

$20 per month and you get 3 pieces of designer jewelry ($15 if you pre-pay for a year, $17 if you pre-pay for 6 months).

20% off retail price of any pieces you want to keep (all prices above reflect this discount)

Cancel any time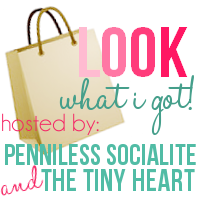 1. follow your hosts
2. grab a button
Or link back to one of your hosts, and help us promote Look What I Got!

3. link up!
Link up your post on what you got (for cheap)!
(Please don't link up your entire blog or any posts that are not "Look What I Got"! )

We love having you link up and we will be reading all your posts! So, if you don't follow the rules and link back you'll be put in time out (i.e. we'll delete your link).

4. mix and mingle
Visit some other blogs and let them know you found them through the link up!