The last 2 months have been some of my heaviest shopping months. But really, it was a heavy shopping like 2 days. I hit the outlets pretty hard on our family-moon after the wedding. I had been saving for a little while for a pretty big shopping trip. And the Kate Spade and Ted Baker Outlets did not disappoint!
Diamond Jaquard Dress: Banana Republic (exact) (Orig. $130, Paid $40)
Kendra Scott Elle Earrings: Bloomingdale's (exact) (Orig. $52, Paid $37)
Space Stripe Selma Dress: Kate Spade Outlet (exact) (Orig. $348, Paid $104 )
Mickey Mouse Printed Shirt: Forever 21 (Paid $25)
Ted Bakers Floral Glitch Dress: Ted Baker Outlet (similar) (Orig. $295, Paid $100)
Kate Spade Grammercy Watch (options) (Orig $225, Paid $180)
Maison Jules Polka Dot Trench: Macy's (exact) (Orig $140, Paid $45)
Kate Spade Necklace: Macy's (exact) (Orig. $78, Paid $44)
Kate Spade Glitter Studs: Macy's (sold out) (Orig $38 Paid $28)
Total Original Price: $2,059
Total Percentage Saved: 60%
Clothes Sold on Instagram: $406
Spent $432 over the last 2 months!
Banana Republic Extra 40% off Clearance
Bloomingdale's 35% off jewelry sale
40% off in Kate Spade Outlet
30% off Dresses and Skirts in Ted Baker Outlet
DSW Clearance rack
Macy's Friends and Family Sale 25% off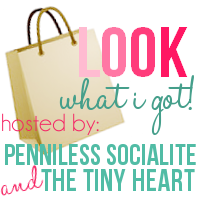 1. follow your hosts
2. grab a button
Or link back to one of your hosts, and help us promote Look What I Got!

3. link up!
Link up your post on what you got (for cheap)!
(Please don't link up your entire blog or any posts that are not "Look What I Got"! )

We love having you link up and we will be reading all your posts! So, if you don't follow the rules and link back you'll be put in time out (i.e. we'll delete your link).

4. mix and mingle
Visit some other blogs and let them know you found them through the link up!