Don't forget....THREE great giveaways happening now!
$50 PayPal Cash
$15 Starbucks
$25 iTunes
When my sister first saw me wearing this sweatshirt, her first reaction was to ask: "Is that a cat on your sweatshirt?" I answered, "No, it's a fox." She responded, "Oh, OK. If it was a cat, I would think you were crazy." I then began to think about the social implications of a cat on your shirt versus a fox on your shirt and how people view you. But, then I just remembered that I got this sweatshirt for $10 and it's adorable.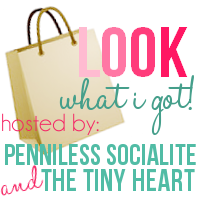 1. follow your hosts
2. grab a button
Or link back to one of your hosts, and help us promote LookWhat I Got!

3. link up!
Link up your post on what you got (for cheap)!
(Please don't link up your entire blog or any posts that are not "Look What I Got"! )

We love having you link up and we will be reading all your posts! So, if you don't follow the rules and link back you'll be put in time out (i.e. we'll delete your link).

4. mix and mingle
Visit some other blogs and let them know you found them through the link up!
Linking up here:

Be.You.,tiful Link Party, Mix and Match Fashion, All Things Thursday, Lovely Blog Hop

,

Style Elixir

,

Friday's Five

,

Passion for Fashion

,

Simply Just Lovely, Glitz and Gold, Vodka Infused Lemonade, That Friday Blog Hop, Fashion Informant Link Up, and Perfectly Coutured